Karpas (Karpaz) Peninsula, North Cyprus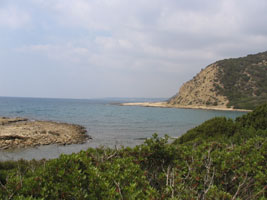 The Karpas Peninsula in North Cyprus is a remote and rather isolated part of the country. It has an abundance of wonderful plant and wildlife and the area is relatively unspoilt and rarely visited by people. It is almost like going to the ends of the Earth, with long, winding roads and a lack of tourist attractions.
Although the amount of restaurants is growing in the area, accommodation is hard to come by and if you are thinking of viewing this remote region, it is best to plan your holiday around it. It takes a couple of days to completely enjoy, so maybe it would be worth camping or taking two, one day trips. There are a few places in which you can stay, but it is best to check these out in advance so there are no disappointments! The tourism industry is starting to tentatively grow here and there are new developments popping up, but these projects take time, and as of yet, there is still rather little in the way of accommodation.
The Karpas Peninsula is fast becoming a great tourist attraction in itself because of its outstanding natural beauty. It is almost like being in another country; it is so different from its other surroundings. There are some exquisite churches from the pre-1974 years, when Greek-Cypriots inhabited the area, and these make for great sight-seeing trips. The surrounding areas, Dipkarpaz for example, are still inhabited by the Greeks, and with the increase of tourism over recent years, there are now a few great fish restaurants that should not be missed and a few petrol stations dotted around to help you out in a sticky situation!
If you are planning to visit this area of Cyprus, then it is important that you plan in advance. If you wish to make the most of the area, you need to spend a decent amount of time there, and that means leaving early from wherever it is you are staying. If you are staying in Bogaz, you will be lucky enough to be only an hour and a half away by car. If you are staying in Salamis, it will take slightly longer, around two hours, and if you are visiting Girne, you are looking at a three hour journey. It is best to take this trip slowly to give yourself enough time to see the many wonderful things on offer. The roads leading here are rather twisty and it is therefore best to take it nice and easy!