Cuisine in North Cyprus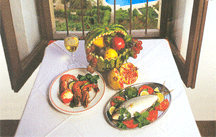 Being at the crossroads of South Europe, Africa and the Middle East, North Cyprus's cuisine is heavily influenced by the cooking style of these regions.  Though many dishes have overtones of these cuisines, North Cypriot cuisine has a heart of its own, being  much lighter and tastier than all of them. Though many big hotels serve delectable dishes in the country, actual traditional North Cyprus's delicacies can be enjoyed at numerous small restaurants laced throughout the country.
Meze is a good starting point if you are a newcomer to North Cypriot cuisine. It is an array of appetizers served with drinks. Combined with salad and breads, this can be turned into a wholesome main course. It consists of a whole lot of dishes, including 'cacik' (a yoghurt dish), chakistes(a green olive dish), humus, tahin, fried hellim, pickles, calamari and fried aborigines, served hot or cold.
Kebabs are another special type of cuisine from North Cyprus. A kebab is marinated meat cube skewered or grilled on charcoal, served on skewers, with bread or salads. shish kebabs(lamb marinated in herbs), donner kebabs and sheftali kebabs  are the most famous.
Main course includes dishes like kofte(meatballs), dolma(stuffed meat or vegetables), musakka ( baked minced meat with potatoes topped with cheese), bumbar, and various other bean and vegetable dishes. Vegetarians also have a lot of options including molohiya, yalanci dolma(vine leaves with rice, onions and tomatoes), and the very famous cheese hellim.
Rich and heavy soups along with pilaf ( rice sometimes cooked with vegetables or meat) are favorite fillers along with these delicacies.
Dessert is one the most savory part of a North Cypriot meal. A wide variety of pastries filled with honey, nuts, cream, fruit, yogurt are on the menu. Coffee shops serve small cakes that are very filling and are a mini meal in themselves. lokma(fried delicacies covered in honey or syrup), ceviz macunu( green walnuts in syrup) and turunc macunu(oranges in syrup) are worth trying. A meal is generally rounded up with tasty Turkish Coffee, a medium-dark blend with foamy layer at the top.
Visit our North Cyprus Restaurants page for all restaurants, cafes and bars in North Cyprus.