North Cyprus Romance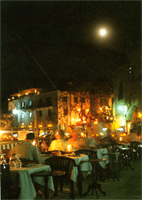 Vivacious, joyous, energetic and romantic at all times! Kyrenia is a unique Mediterranean port town. In Latin-origin languages cities are "female" ("she"). Like women, some of them attract you at first sight, while some possess an air of mystery in addition to their beauty.
Some of them have sensual beauty, while others are cute, childish or charming!
Some of them may not be so attractive at first sight, but you discover other virtues deep inside, as you know them closely. Some are not so beautiful but are attractive. Some others give away signs that they were once very beautiful but were exhausted by the touch of coarse hands.
As the writer once wrote, "Five Fingers Mountains on the one side, Blue Mediterranean on the other, continue in their age-old harmony, bestowing upon you the incomparable beauty, ever your blessing, ever your curse, little, so little, Kyrenia".
Women with unique beauty are both worshipped and damned at the same time. Kyrenia is the little girl of the Mediterranean, sometimes cute, sometimes mysterious, but always very beautiful. She is lucky because she is beautiful both at first and last sight. At the first encounter on the Five-Finger Mountains, you take a deep sigh. She burns your heart, as you get closer. Her love is not one that glows like a flame and is then extinguished; her face is one that is never erased from the memory.