Karpas (Karpaz) Peninsula - Touring: Apostolos Andreas Monastery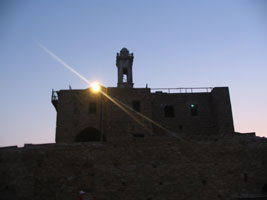 If you are looking for a great place to bird watch, then look no further. The Karpas Peninsula in North Cyprus is renowned for its great wild life, and being the stepping stone between Europe and the Nile Delta, millions of birds stop off here during their long migration.
The island not only attracts birds but also hunters, who travel from all over to visit to make the most of the shooting opportunities. The hunting is well regulated, with shooting only allowed on Sundays in the months between November to January inclusive. The Karpas Peninsula is considered as one of the best places to hunt, and the game is generally partridge and francolin.
If it is not bird watching you are looking for, but other types of wild life, then you should go and visit Khelones. This is derived from the Greek word for turtle and this is because the beach here is home to many of the creatures and their eggs, buried deep in the wonderful sandy beaches. The old harbour is still visible here, as is the customs house and also a ruined carob store, a reminder of bygone times when carobs were still exported from this location.
On your return journey to Dipkarpaz, you should keep your eye out for a sign that reads "Zafer Burnu Manastiri". The stretch of road leading to this is magnificent, with very little in the way of human life around. There are no villages, no people and just a few old buildings that appear to have been owned by Mayors and suchlike, with their outstanding beauty and construction from stone that had been beautifully crafted. When you look closer, these great buildings are not homes to important and great people anymore, but are now just old barns used for storage and stables. It is almost a shame to see such wonderful buildings being used for these purposes, but at least they aren't being used for hotels and such things.
As the road passes the shooting and bird watching area and these uninhabited spaces where you may only see the occasional shepherd traditionally dressed, you will end up at the coast. Here you will find a hotel and restaurant – the Blue Sea Hotel and Restaurant. This was opened in 1989 and boasts of offering a comfortable and relaxing stay. It is remarkably well decorated and is in suburb condition, making it a lovely place to stay, whether it is for a week or just a night. The area offers views so beautiful that it could almost take your breath away. Travelling further along road, you will arrive at the Apostolos Andreas Monastery.
You will first notice a large courtyard, open but with cells around the edge that contain single rooms where Pilgrims once stayed. These buildings can be dated as far back as 1867, but due to their disrepair, you could easily be fooled into thinking that they were much older than that. As well as the stray cats you may find here, there is a police post where you will find a couple of friendly policemen alongside grazing donkeys. If you wish to buy a souvenir to remind you of your trip here, there are locals wandering around that sell all sorts of things.
Pilgrims travel from far and wide to visit this monastery and there is a nice story behind it. The protector of travellers, St. Andrew and his brother, Peter, both fishermen, were on a mission to preach in Turkey and Greece. Their ship happened to run out of clean drinking water and anchored, as such, on the rocky outskirts of this wonderful area. Andrew then converted and baptized the Captain and all of the crew and the Captain put a statue of Andrew near the wells. This is how the sanctity of the spot began and then grew.       
Beneath the bell tower, you will find a modern church. There is, within this church, an icon of the saint, and people of all ages, and even a couple of animals, as wax effigies, all seeking a cure for all manner of afflictions. Looking below the church towards the sea, you will find a small spring of freshwater that Andrew apparently endowed with powers of such greatness that the water could heal. There are a couple of stories of magical cures and healing sessions that do the rounds, and it is enough to keep this spring with a reputation that people travel from far and wide to see for themselves.
There are two days of the year on which Pilgrims travel to this spot to bring offerings and suchlike. The 15th August, or Assumption day as it is better known and the 30th November, St. Andrews Day which brings both Muslims and Christians to the area. Before 1974, families from Famagusta would have travelled here for an outing and to get baptized. So much so, that the font had to be refurbished with hot and cold running water taps! Unfortunately, this no longer happens so much, but apparently there is an old Greek woman found here in the Grotto, pulling back the curtains to reveal to you the icons of the Saints so that you can kiss their feet. You are then given candles which you must light.
There is so much history within this area that you would think that there would be more tourist attractions here, as well as more restaurants and hotels, etc. Maybe the great appeal of the area is because it hasn't been exploited by the great tourism industry and it is still relatively untouched. If you are planning on visiting Cyprus, and specifically Northern Cyprus, this is an area you should definitely travel to, with its great history and fantastic wildlife. All in all, it is an area of outstanding beauty for so many reasons!