Home
>
Browse Hotels
>
Kyrenia - Girne (West)
>
Primary Holiday Village
Primary Holiday Village
Kyrenia - Girne (West)
Alsancak

Primary Holiday Village




Bungalow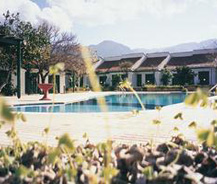 Primary Holiday Village is established, under the glorious setup of Besparmak Mountain range and Mediterranean Sea. It is about 7 miles away from the west of Kyrenia. Atmosphere of this place is extremely pleasant that will surely refresh your minds.
It is a modest place which would feed your soul with real peace. This edifice comprises 24 cottages dispersed around a tranquil pool. The shapes of the hotel rooms will make you feel like living in the ancient Cypriot era.
You can visit many ancient palaces, cloisters and art galleries besieged by bars and eateries offering authentic Cypriot cuisine. Facilities in these cottages will help you feel the calmness and serenity of the place, which is worth experiencing. At this place you can get cozy with your loved one and spend some memorable time together.
The sceneries of the mountains from the cottages are simply astonishing. Hotel provides number of holiday packages based on your budget. If you are looking for a holiday to break free from the busy and hectic daily life, then Primary Holiday Village is your terminal. Primary Holiday Village is an idealistic place where you can interact with the nature in the absence of huge crowd and have a soothing vacation.
Room Facilities





Hotel Facilities






Outdoor Facilities




Other Services








General Info
City Centre: 9 km
Airport: 53 km
Bed: 48
Unit: 24
Board: S/C - B/B - H/B - F/B