Home
>
Browse Hotels
>
Kyrenia - Girne (West)
>
Manolya Hotel
Manolya Hotel
Kyrenia - Girne (West)
Lapta

Manolya Hotel




3 Star Hotel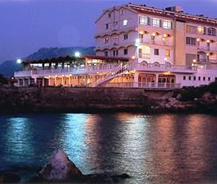 Manolya Resort Hotel located in the town of Lapta- Girne. Girne is the tourism capital of Northern Cyprus, one of the beautiful places in the Mediterranean Sea, boasts this hotel with high standards and facilities. This hotel is situated exactly at the distance of 11 kms from Kyrenia alongside the beach with Besparmak Mountains and Mediterranean Sea on its adjacent sides. This gives the guests a wonderful opportunity to feel the pleasant air and warm climate with peace and joy. Manolya Resort Hotel has a fresh water swimming pool where you can play and swim and if you wish to swim in the blue water then it is also possible out there in the Mediterranean Sea but not at all time only during the Mediterranean climate.
The hotel has both indoor and outdoor restaurants with different varieties of dishes and international cuisines prepared by experienced chefs. The restaurant offers vegetarian and non- vegetarian foods with great taste and quality. Also it includes American bar with variety of liquors and drinks.
Manolya Resort Hotel has 45 standard and16 family rooms which incorporates facilities like satellite TV, air conditioning/heating, direct phone lines, hair dryers, bathroom fitted with shower, and internet connection. In addition to all these facilities the family room includes a mini bar and a huge lounge area.
Room Facilities







Hotel Facilities




Outdoor Facilities





Other Services








General Info
City Centre: 11 km
Airport: 55 km
Bed: 122
Unit: 61
Board: S/C - B/B - H/B - F/B